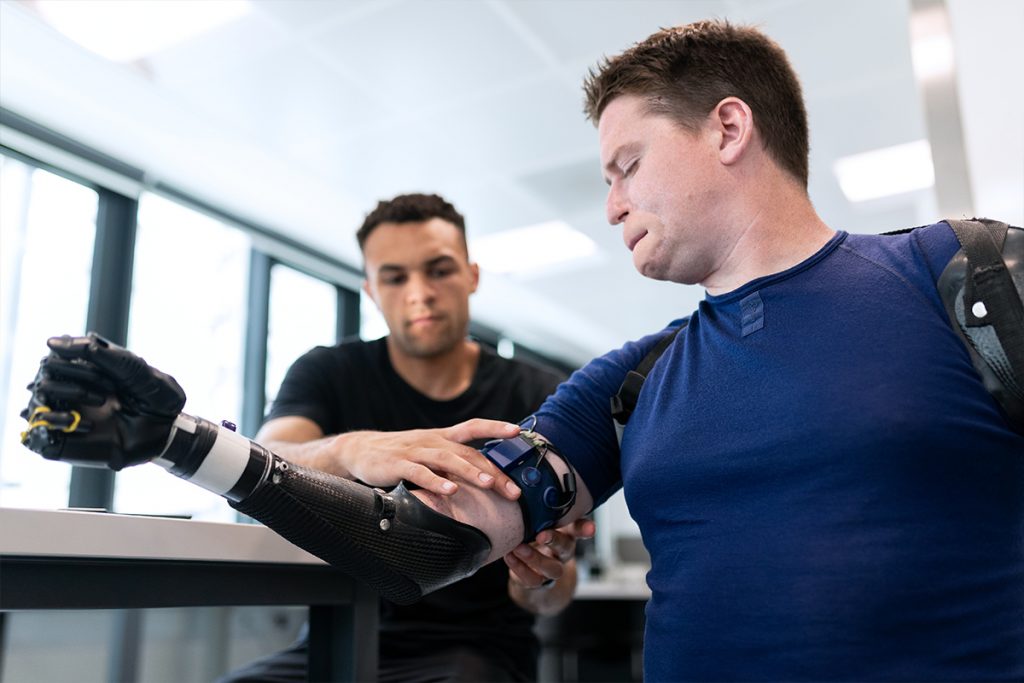 Improving Brain-Machine Interface Technology for the Benefit of Patients AND Society
Advancing brain-machine interfaces to help people who are paralyzed is the goal of a productive partnership between Cynthia Chestek, Ph.D., and Miriam Zacksenhouse, Ph.D. 
Dr. Chestek is an associate professor of biomedical engineering at the University of Michigan. Her research focuses on improving implanted brain-machine interface systems to enable individuals to control prosthetic limbs as well as their own paralyzed limbs. For this project, signals are recorded directly from individual neurons in primary motor cortex, and interpreted in real time to control individuated finger movements. This can one day provide control signals for an assistive exoskeleton around the hand. 
Dr. Zacksenhouse is an associate professor of mechanical engineering at the Technion–Israel Institute of Technology. She co-leads the institute's Brain-Computer Interfaces for Rehabilitation Laboratory, which was established to investigate EEG-correlates of error processing in the brain, and develop brain-computer interfaces to enhance robot-assisted upper and lower limb rehabilitation.
The team received joint grant funding during the 2016-2017 cycle. In 2019, they presented a poster titled "Restoring Fine Finger Control to Paralyzed Hands Using a Low-Power Brain-Machine Interface" at the D. Dan and Betty Kahn Michigan-Israel Partnership Conference for Research and Education. The same year, they presented a poster called "Neural Correlates of Error Processing During Grasping with Invasive Brain-Machine Interfaces" at the IEEE Engineering in Medicine and Biology Society's Conference on Neural Engineering. 
Drs. Chestek and Zacksenhouse are pursuing collaborative projects on exoskeletons as part of our megaproject in robotics.